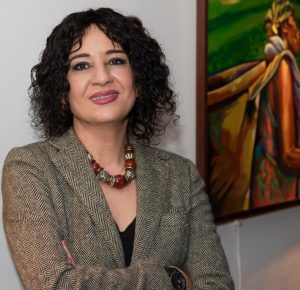 The artist Nassim Aslani was born 1972 in Teheran/Iran.
There she studied from 1991 to 1996  painting at the art university. In 1999 she moved to Germany.
Since more than 30 years she dedicates herself to mostly oil paintings, and sometimes she works with watercolors.
Nassim prefers to paint simple motives in intense and bright colors.
Her paintings are sunny and positive. They radiate endless joy and life-energy.
1996-1999: several solo and group exhibitions in Iran.
2001-2021: several solo and group exhibitions in Germany like FORM-ART, Reinbeker Malerweekend (2 times), exhibitions in town hall Hamburg, town hall Reinbeck (2 times), town hall Bad-Oldeslo, Kultur Laden, culture palace (2 times), Aura Kure (3 times), art and culture days in Mümmelmannsberg (17 times), Missionsakademie an der Universität Hamburg, diverse Galleries like Grace Denker Gallery, Gallery Il Collezionista Rom, etc…

Ex-member of the Kunstgemeinschaft Sachsenwald

Art Parma fair 2018, Italien
Art fair Marbella 2020 with Van Gogh art gallery, Spain
Art fair Paris 2021 with Van Gogh art gallery, France
MAMAG modern art museum with PAKS gallery, Austria
"Price/Awards"
2004: Winner of the 3rd Audience Award under the motto "FANTASIEN" at the Art and Culture Days Mümmelmannsberg
2005: Winner of the 3rd Audience Award under the motto "DIE FARBE BLAU" at the Art and Culture Days Mümmelmannsberg
2007: Winner of the 3rd Audience Award under the motto "CREATIVITY THEORY" at the Art and Culture Days Mümmelmannsberg.
Nominated for the Kitz Award 2018
2018: Winner of the Ruby Award of Merit by Gallery ring under the motto Wheels
2020: Art for Hope Award by Palm art Award
2021: Recognition Prize by Palm art Award